liked them before they sold out?
I got a couple links to this last week, and since I am such a fan, figured I'd report on the this little fiasco:
Creed sued for crappy performance (from Rolling Stone, thanks Michal).
A more behind the scenes look at same, from the Smoking Gun (thanks Beth).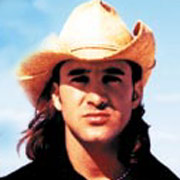 Tough luck, cowboy.
(YOU ARE NOT A COWBOY!)
(But you are probably A BETTER COWBOY THAN YOU ARE A MUSICIAN!)
(Though cowboys can get drunk and still do their job.)
(Some cowboys.)