Calendarclock lets you have the date as well as the time on your menu bar. You can choose from a list of presets or make your own with strftime(3) formats.
Clicking on the clock makes a little calendar drop down.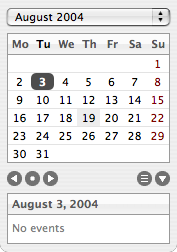 It includes iCal events, which is great since I rarely remember to check iCal.
3 August 2004
os10